When should you use a face mask?
During the period of the COVID-19 pandemic, a mask or personal protective equipment must be worn whenever you go into an indoor public building, workplaces and in all outdoor places where a distance of at least one meter from other people is not possible or guaranteed and, in any case, in all those specific conditions required by the legislation of each individual state. Face masks and personal protective equipment help to protect yourself and those around you from the spread of SARS-CoV.2 and other pathogens.
For Italy, please refer to the Ministry's website for information on the anti-contagion regulations. http://www.salute.gov.it/portale/p5_1_2.jsp?lingua=italiano&id=235
What types of UFI face masks exist?
Using the expertise of its Innovation Centres, UFI Filters has developed personal protective equipment suitable for all requirements ranging from surgical masks to FFP2 and KN95 face masks.
What are the differences between UFI Filters surgical masks and FFP2/KN95 masks?
Surgical masks consist of 3 filtering layers and have a filtration efficiency of ≥ 95% for particles of size 3.0 ± 0.3 μm.
KN95 masks, on the other hand, have 5 filtering layers with a filtration efficiency of ≥ 95% @ 0.3 μm NaCI at 85 L/min.
What distinguishes the FFP2 UFI MASK DEFENDER masks from the KN95 ones are their 4 filtering layers and higher filtration capacity, i.e. ≥ 98% @ 0.6μm at 95 L/min.
SUMMARY OF COMPARISON OF MASKS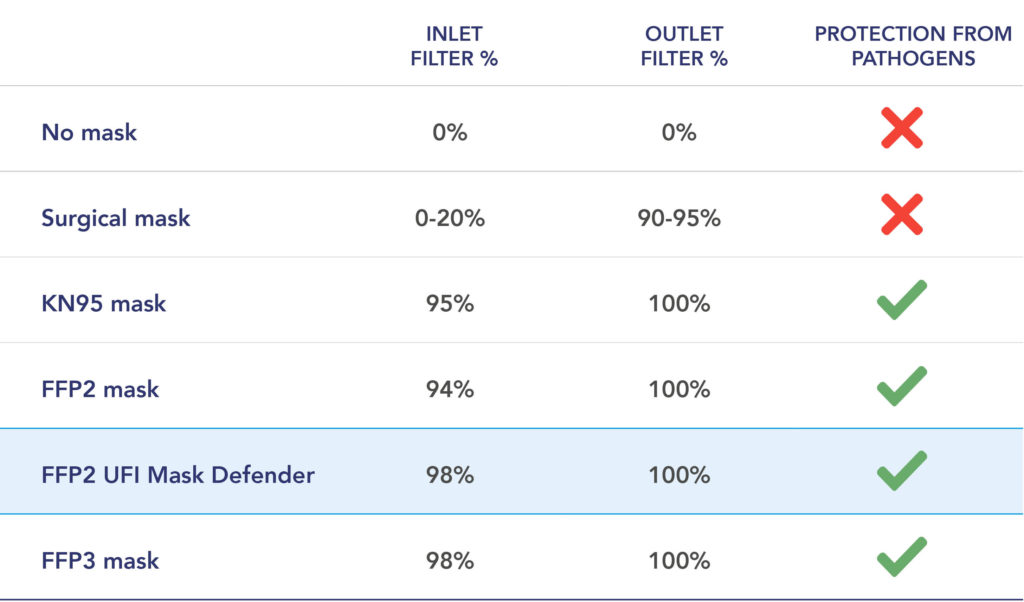 What is the difference between KN95 and FFP2 masks?
KN95 and FFP2 devices comply with two different standards: the KN95 standard is required by China and America, whereas the FFP2 standard is required by countries in the European Union.
Which type of face mask should you use to protect against Coronavirus?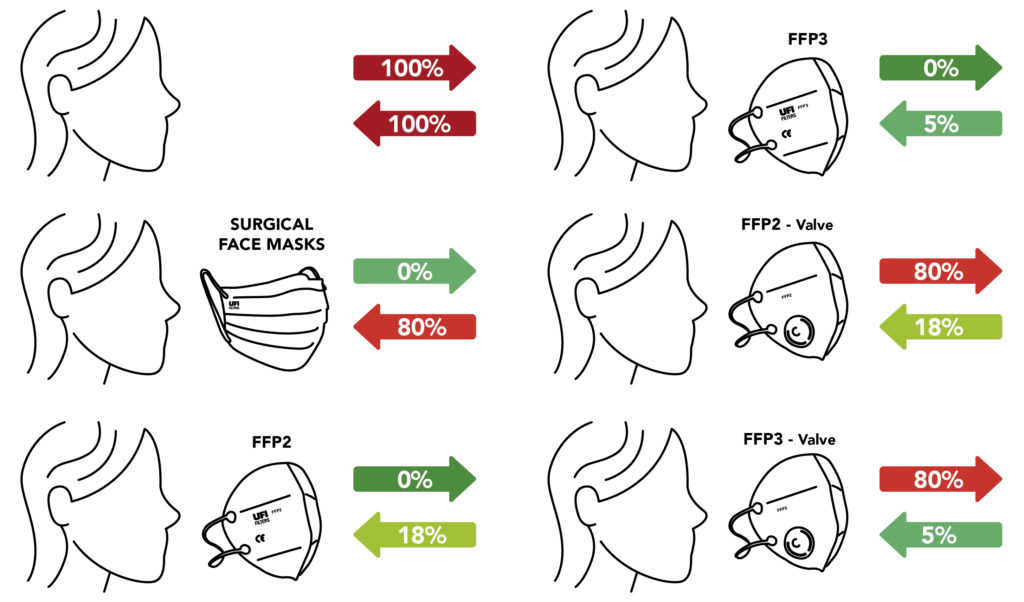 The classification of masks is based on the level of protection offered by the device being worn:
Surgical face masks: these devices are suitable for daily use in safe places or places where there is less risk of potential contact with the virus. Surgical masks protect others, but not the wearer.
FFP2/KN95 masks: these are suitable for individuals at risk and healthcare workers and are to be preferred in places where there is a higher risk of contamination. They protect both the wearer and the people around them.
It is important to choose the right device for the situation it will be worn in.
How should UFI masks be worn?
To ensure you do not contaminate your PPE, you should follow a few simple rules.
We recommend washing your hands thoroughly before performing these steps.
Remove the mask from the individual packaging.
Make sure that the nose clip is facing upwards.
Put on the mask, holding it by the elastic loops which must be placed behind the ears.
Adjust the mask on your face and adjust the nose clip so that it fits snugly.
Avoid handling the mask by touching it directly on the inside or outside. Always remove the mask using the elastic ear loops.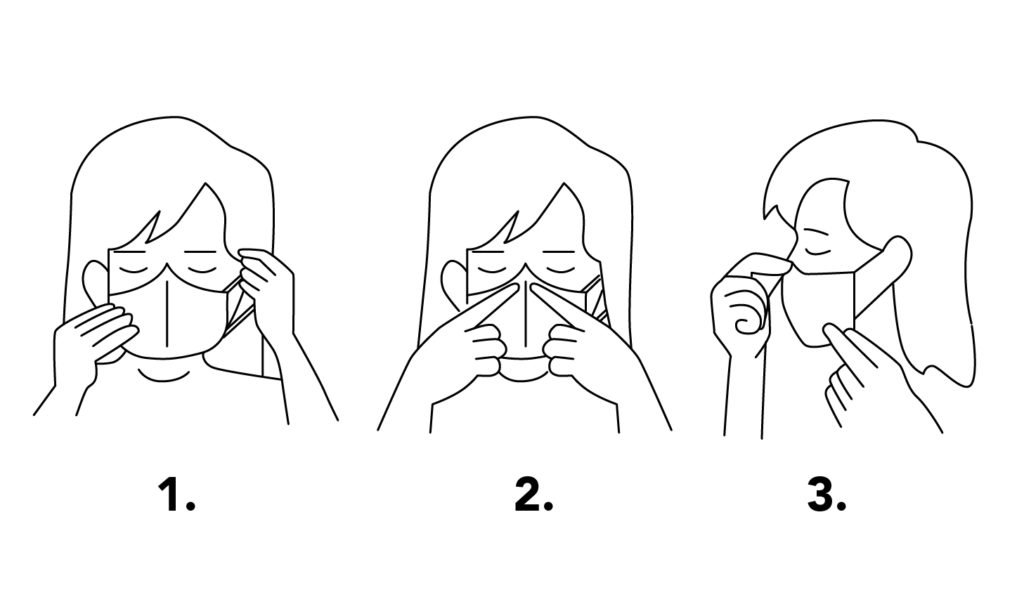 What are the masks made of? What is UFI Meltblown and where is it produced?
UFI masks are made from Meltblown, a special non-woven polypropylene fabric. UFI Filters Meltblown was first developed in Italy at the UFI Innovation Center in Ala di Trento in the 1990s.  Today, different types of Meltblown are produced in the Group's factories which are used to make different types of masks, KN95, FFP2, FFP3, both surgical and sports.
This special fabric with high filtration efficiency has been recognised as one of the best on the market and is ideal for making masks: material analyses were carried out by the Milan Polytechnic and the EUROFIN-recognised laboratory Fonderia Mestieri in Turin.
Design and development were carried out at the Innovation Center laboratory in Ala di Trento whereas production took place at our UFI Shanghai plant where a part of production was extended to include filter material for masks.
The outer layers of the FFP2 and KN95 masks are made of polypropylene airlaid which makes them flexible and protective layers of spunbond, a non-woven fabric that is soft and does not irritate the skin. To see detailed information on the composition of the masks, see the page for each product.
For more information on Meltblown, please visit the special section:
Which characteristics make the UFI face mask range a high quality range?
UFI Filters has had consolidated expertise in the production of filter material since the 1990s. UFI Filters continuously invests in the latest generation machinery to guarantee constant innovation. The filtration efficiency of UFI PPE has been tested and certified not only by our laboratories, but also by other authoritative laboratories such as the one at the Milan Polytechnic.  See link:
https://www.ufimask.com/wp-content/uploads/2020/11/Scheda-tecnica-Politecnico-Milano-Meltblown-UFI-Filters.pdf
UFI Filters masks also undergo stringent internal compliance checks with 3 procedures performed on each product batch:
Incoming Inspection. Quality control is performed on incoming material at our factory in Shanghai.
In-process Control. The product being processed is carefully controlled by monitoring the entire production process to ensure that the specifications (inspected characteristics: shape and structure of the mask, strength of the ear loops, size, appearance) are complied with.
Final Product Control. A final product control is carried out on each batch produced.
How often should you change a mask?
Each item of personal protective equipment has its own duration:
Surgical face masks: change after 4 hours of use
KN95 and FFP2 masks: change after 8 hours of use
Are our masks washable?
No, UFI Filters masks are disposable and should not be washed or reused.
Are our masks certified?
All UFI Filters masks are certified by reputable laboratories after thorough testing.
Visit the mask pages to see the individual certification.
LINK:
Surgical masks: are CE certified
KN95 masks: are manufactured to GB 2626-2006 KN95 and are certified to CNAS L7901
FFP2 masks: are manufactured to EN 149:2001 + A1:2009 and certified to:
the Brazilian standard ABNT NBR 13698-2011
and ГОСТ 12.4.294-2015 for the Russian market
UFI MASKS FFP2 masks have also been certified by the German laboratory PALAS®GmbH and the Fonderia Mestieri laboratory in Turin.
Why does it state on FFP2 face masks that they are not medical devices?
UFI Filters FFP2 masks are not considered medical devices since they are produced and packaged in individual bags but do not subsequently undergo the procedures required for use in the medical field and are therefore considered personal protective equipment.
How should I dispose of face masks?
After use, dispose of masks properly as indicated by your municipality. If you test positive for coronavirus, make sure you carefully follow the instructions given by your municipality or health authority: used face masks can be disposed of by double bagging and placing in the mixed (or non-recyclable) waste.
Where can UFI masks be purchased?